Rocky is Boy's younger Brother . His mum died having Rocky When Rocky was born He was raised with his older Brother Boy Who rasies them is there nan. His house his filled with cousins and his brother, also a pet goat called leaf. His Dad left for 7 years, so he spent qualtiy time with him. He is known for sitting back and watching.
But when his Brother tells him about Alamein Going to China/Japan he mets Alamein at the cemtrey he ask if he had a good time in China/Japan
Rocky is played by Te aho Eketone-whitu.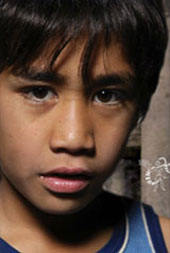 Ad blocker interference detected!
Wikia is a free-to-use site that makes money from advertising. We have a modified experience for viewers using ad blockers

Wikia is not accessible if you've made further modifications. Remove the custom ad blocker rule(s) and the page will load as expected.